Tourist Information
Royal College of Art, June 2005

---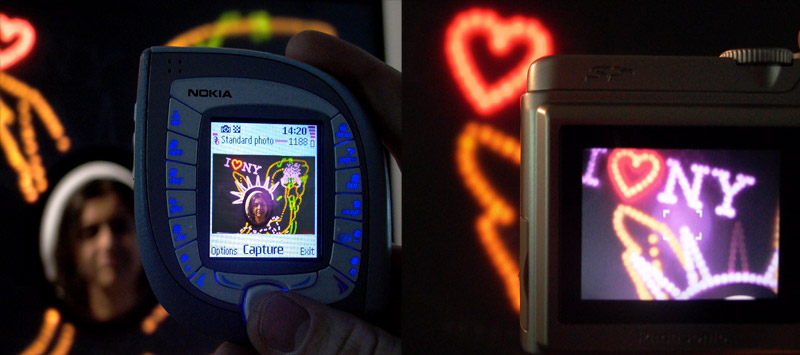 Revealing hidden lights in digital cameras and cameraphones
The photographic image is central to modern tourism. The experience of the tourist is bound to the activity of photography, so much so that holidays are in many ways lived and relived through the activity of taking photos. This is exaggerated further by the rising popularity of digital photography, with tourists posing for a photo and enjoying the immediate feedback of the camera's onscreen preview.
Tourist Information distorts tourists' expectations of London sights by re-appropriating digital cameras as windows into invisible imagery. Evolving from a series of live trials, the final project takes a form quickly associated with tourism, the traditional seaside painted figure with a cut out space filled by posing faces. Instead of paint, the figure is drawn in a series of visible lights. A second surprising and provocative image is overlaid onto it in infrared, only revealed by digital cameras.
Viewing the invisible lights

RCA Degree Show, June 2005
RCA Degree Show, June 2005

Picadilly Circus, London
One of the most photographed sights in London - proposed site for the project

Early trials at sneaking hidden content into tourists' images - using infrared LEDs and black retro-reflective vinyl. This material is hidden from view until it's lit up by a bright light like a camera flash, reflecting back the light only in the direction of the source (the camera).