Audio Shaker
Tom Jenkins, Mark Hauenstein
Royal College of Art, January 2004

---
The Audio Shaker explores our understanding of the physical form of sound. Anything sung, spoken, clapped, whistled or played near it is trapped inside, where it takes on an imagined yet tangible physicality. Sounds caught in this void are transformed, given weight and permanence, reacting directly to the shaker's movements, subtle or violent. Shaken sounds have to settle down before becoming still and silent, behaving more like fluid than transient energy.

The linear timescale of sound is broken, a conversation is split into words and mixed up in the shaker, and can be poured out separately, tipped out in a simultaneous splash or added to and shaken up further.

The project has been published in The Art of Experimental Interaction Design (IDN books), Sonic Interaction Design (MIT Press) and The Sonification Handbook (Logos Publishing House). It has also been exhibited at next2004 in Copenhagen, BURST at Battersea Arts Centre in London, and NIME06 in Paris.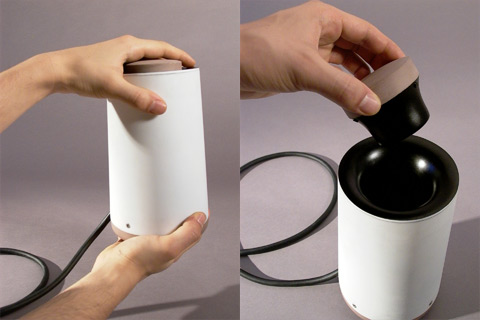 Trapping sounds in the shaker's black void
Exhibiting Audio Shaker at next2004, Copenhagen
---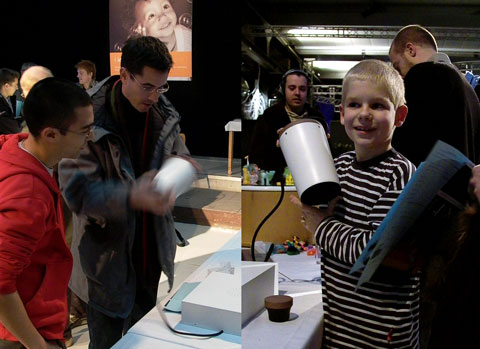 Audio Shaker development
---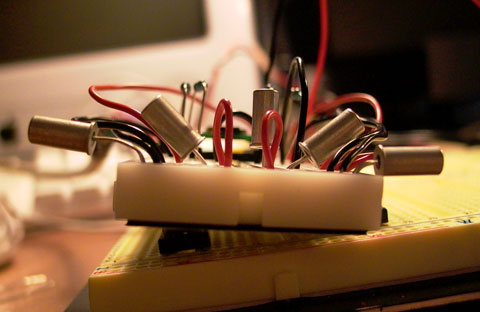 Initial prototypes were made using a series of tilt switches to monitor the cup's angle.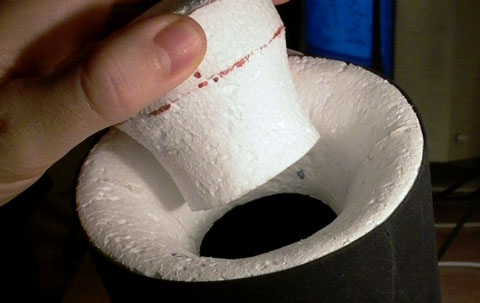 An exploration of form was crucial. People have to imagine the possibility of trapping sound in the audio shaker. We wanted to create a handheld void, if a sound is loud enough and close enough it will fall in and be trapped.

To make the shaker as animated as possible it is also designed it to rock around when put down or nudged, playing any sounds still trapped inside.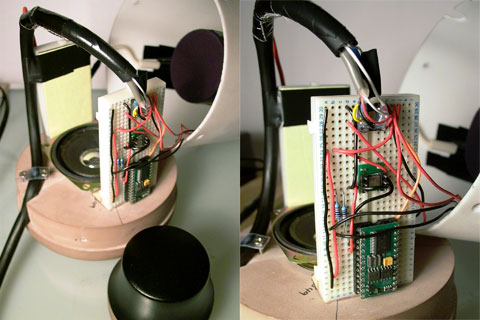 The final prototype used an accelerometer to accurately input the relative orientation and movement of the audio shaker. Allowing us to create software that responded to the subtlety of gesture more dynamically. Vibrations from the speaker embedded in the base also creates a more tactile experience in-hand, shaken sounds are felt as well as heard.